Happy Spring!
Chris, Koda, and I spent the weekend in the north woods. Oh my, we had a blast!
This was different way for us to greet the spring equinox. We usually hang at home or travel south where we can enjoy some warmer temperatures. North was never really on our radar before. But after last summer in the forest, I've been eager to get back . . . even if only for a hike down the road to catch a glimpse of the lake and our land.
With several feet of snow still covering the ground, that's about all we were able to manage. But let me tell you, it was worth it!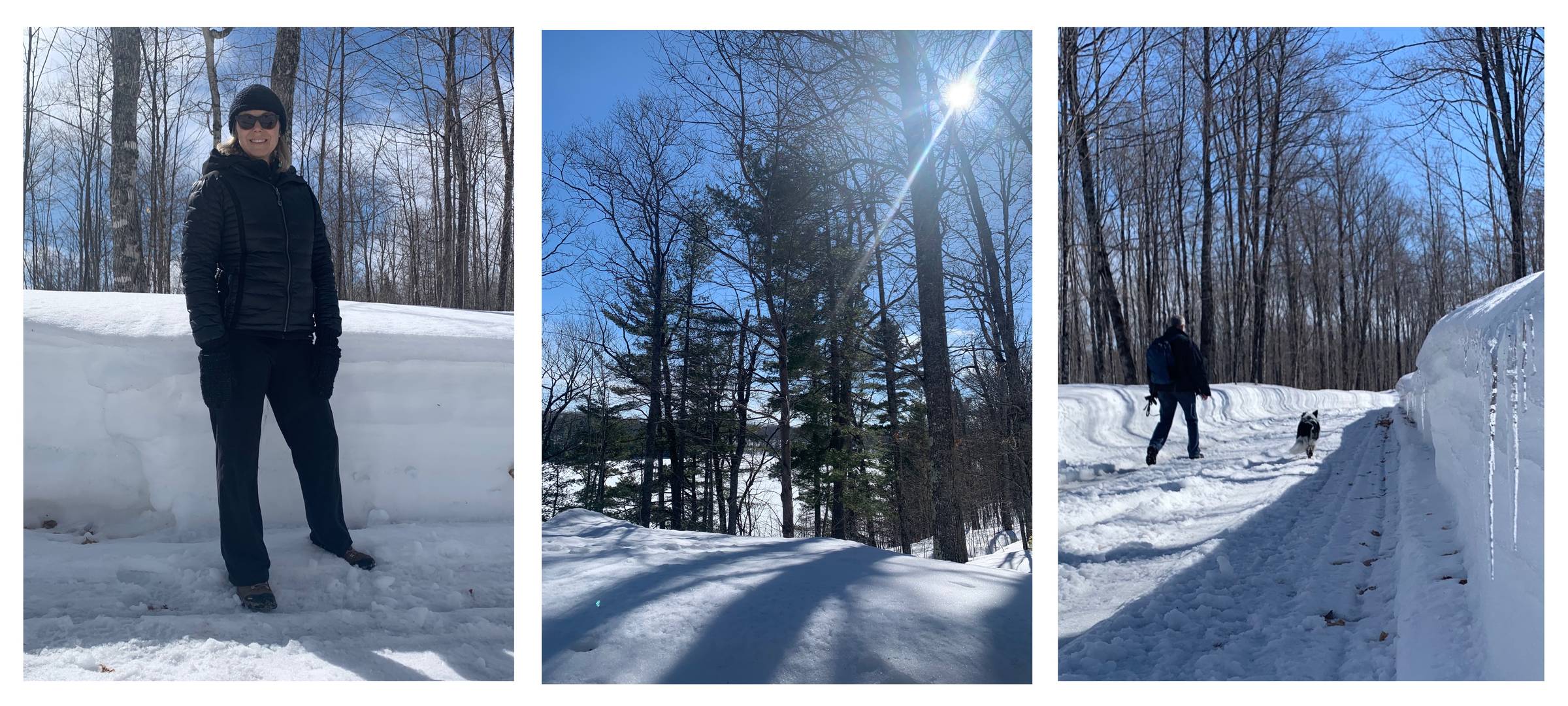 This little weekend getaway was the refresh we needed. We laughed. Connected. Ate fun foods. Met new people. Bumped into local friends. Hiked. Dreamed. And laughed some more.
In this week's episode of the Crystal Shaman Life podcast you will hear a bit more about our northwoods adventure along with a series of insights regarding how to . . . – weave sacred community – plant seeds of intention during the spring season – create space for new and meaningful experiences.
Join me here: 
Wishing you a heart-centered week!
with joy, Lori
P.S. Scroll down for a series of updates from upcoming jewelry shows to website updates. 🙂
Upcoming Events.
SHOP JOURNEY JEWELS JEWELRY
Online Event
Pop-up Jewelry Show April 7 – 11.
Online Doors open at 12pm cst on Thursday, April 7. Online Doors close at 12pm cst on Monday, April 11.
More details to come.
In Person Event
The 2022 Spring Show at The Historic Mill in Denmark, WI
April 21 – 24. Thurs. 12pm – 7pm. Friday – Sunday 9am – 4pm.
*** Please note . . . this is a collaborative event hosted by The Mill. I will not be present, but my jewels will be and they are eager to see you. If you've been looking for a chance to get some new jewels, to try them on, and shop in person, this is a great time to do that! I am delighted to be a part of this event. It gathers a wide variety of creators from our local area together for one weekend event.
Website Updates. Changes. Evolutions.
I've been busy making updates to my website(s) over the past couple weeks.
With your next visit, you will notice a new color palette, fresh images, and some changes to the layout. In addition to these changes, we are streamlining websites into one sacred space. The intention is to make navigation easier for you (it's been a bit scattered). Interesting how the action being taken is reflective of this months crystal message.
ACCESS to ALL PROGRAM CONTENT
The location for all program content is changing from crystalshamanschool.com to sacredspace.loriaandrus.com
This transfer will happen this week.
Please note there may be some website downtime while we get all of the details organized.
If you've been visiting our online learning space over the past months, please bookmark this new url: https://sacredspace.loriaandrus.com
Ready to sink into deeper connection with you?
Join us in the
Sanctuary Membership Circle
A Sacred Space for Soulful Visionaries Ready to Rise. Learn more here: https://loriaandrus.com/sanctuary